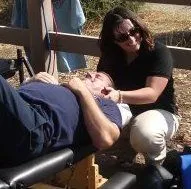 Dr. Renee J. Gordon is a practicing Doctor of Chiropractic medicine. She graduated from the Southern California University of Health Sciences, formerly Los Angeles College of Chiropractic, with honors and was awarded the Delta Sigma Honorary Scholastic Society of the Healing Arts Award, as well as a Certificate for Outstanding Proficiency in Clinical Practice. She also holds a Bachelors of Science degree with a Concentration in Exercise Science from Towson University in Maryland. In addition to her Doctorate, Dr. Gordon earned a Certification in Applied Kinesiology from the International College of Applied Kinesiology.
Dr. Gordon's practical experience has allowed her to treat a wide variety of patients. She completed internships at several different facilities and private practices, including the Center for Achievement, a rehabilitation facility for patients with physical disabilities. Dr. Gordon was among a very select group of interns chosen to evaluate IMGP0595_1.JPGand treat the firefighters who battled the San Bernardino Wildfires. In October, 2005, Dr. Gordon treated over 100 firefighters battling the Topanga Canyon/San Fernando Valley Wildfires. Additionally, she has conducted athletic pre-participation physicals for high school and youth teams. She continues to take extra courses, above and beyond the regular curriculum, in the areas of nutrition, chiropractic pediatrics, Vector Point Cranial, Neuro-emotional Technique, Cranial Sacral Therapy, and has completed over 300 certified training hours in Applied Kinesiology.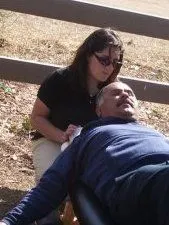 Dr. Gordon is a member of many professional organizations, including the International College of Applied Kinesiology, the American Chiropractic Association, and the California Chiropractic Association. Dr. Gordon takes a holistic approach to health care, treating the whole person and not just an isolated symptom. She works to find the underlying cause of the problem and understands that pain is not simply a product of a one-time incident, but rather an accumulation of the stresses of everyday life.
Dr. Renee J. Gordon
Renee J. Gordon, DC
2659 Townsgate Rd. Suite 126, Westlake Village, CA 91361
805.778.1054