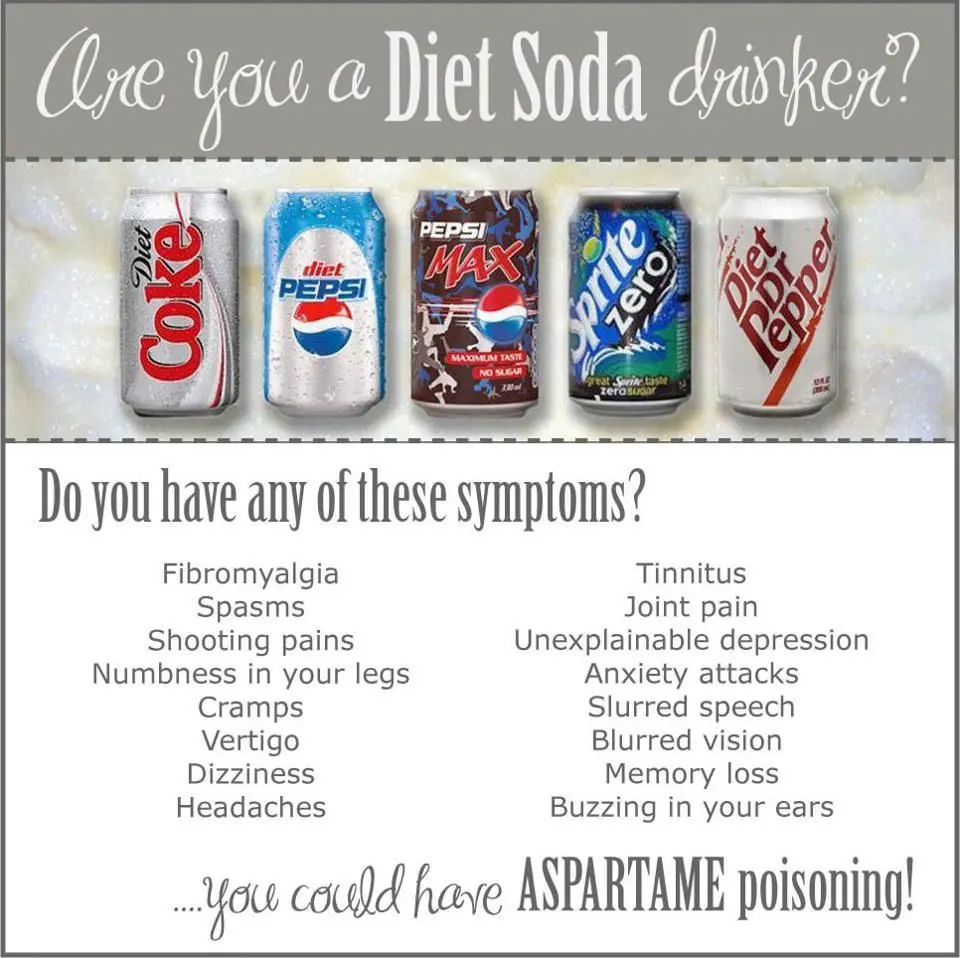 CHUNKY RHUBARB-APPLE SAUCE WITH DRIED CRANBERRIES
This recipe tames rhubarb's tartness without excessive sugar. Dish up this sauce at your holiday barbecue as a flavorful accompaniment to grilled chicken or turkey. A member of the fruit family, rhubarb supplies calcium, vitamin K and lutein. Cooked rhubarb supplies lycopene while raw rhubarb does not. When selecting rhubarb, look for the sweeter red and pink stalks.REMEMBER: the leaves are poisonous; only the stalks should be consumed.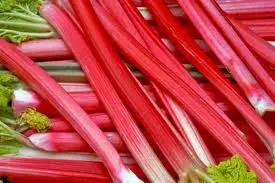 INGREDIENTS
. 1 large green apple, (such as Granny Smith) peeled and diced.
. 2 cups diced rhubarb, (2-3 STALKS ONLY)
. 1/4 cup diced red onion
. 1/2 cup unsweetened apple juice
. 2 tablespoons dried cranberries
. 1 tablespoon honey
. 1 1/4-inch-thick slice ginger
. 1 teaspoon balsamic vinegar, or to taste
DIRECTIONS
Combine apple, rhubarb, onion, apple juice, cranberries, honey, and ginger in a medium saucepan. Cover and cook over medium heat, stirring occasionally, until rhubarb is soft and the apple is tender but not mushy. 10 to 12 minutes.
Remove from the heat and let stand for 5 minutes. Stir in balsamic vinegar. Remove the ginger. The sauce can be served warm, at room temperature or chilled
Recipe courtesy of EatingWell www.eatingwell.com
---
Roasted Asparagus Salad with Citrus Dressing
Add some veggies to your spring table. Watercress has been valued for its health benefits since Ancient times and is considered a cooling plant in traditional Chinese medicine.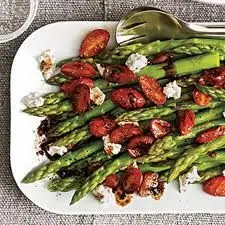 INGREDIENTS
. 2lbs (2bunches) asparagus, trimmed
. 1pt tiny cherry or pear tomatoes
. 1tbsp extra-virgin olive oil
. 3/4tsp sea salt , divided
. Freshly groundpepper, to taste
. 1tbsp lemon juice, preferably fresh squeezed
. 1tbsp orange juice, preferably fresh squeezed
. 1tbsp honey
. 1/2 tsp Dijon mustard
. 2 bunches watercress, tough stems removed
. 2tbsp fresh dill, finely chopped
PREHEAT oven to 450F. Place asparagus in a large bowl, add tomatoes and olive oil, toss to coat. Spread in a heavy roasting pan or rimmed baking sheet, spooning the tomatoes between and on top of the asparagus. Sprinkle with 1/2tsp of sea salt, add pepper to taste. Roast until the asparagus is crisp, yet tender and the tomatoes are warmed and slightly crinkled, about 15 minutes. Set aside until ready to serve.
Whisk lemon juice, orange juice, honey mustard and remaining salt in a medium bowl until blended. Reserve half of the dressing in a small bowl.
Add watercress to medium bowl; toss to coat. Spread the watercress on a platter. Arrange the roasted asparagus on the watercress and top with tomatoes. Drizzle remaining dressing over the asparagus d tomatoes, sprinkle with dill. Serve warm or at room temperature.
recipe courtesy of Delish
---
THE CHIROPRACTIC SURGE PROTECTOR
What happens when you plug ten appliances into one outlet and turn them all on at the same time? You blow a circuit! The same thing can happen when you surge an unprotected Nerve System with STRESS.
Picture your Nerve System as an electrical outlet with multiple stressors plugged in. Turn them all on at the same time and POW - you overload the system, fry a circuit and ruin your good state of health. Chiropractors call this a SUBLUXATION. Depending on what nerves (circuits) are blown, you could experience symptoms from minor aches and pains to more significant health problems like High Blood Pressure (Journal of Human Hypertension, 22,1: G Bakris, MD et al.)
Although it's impossible to turn off all the stress in your life, you can guard against unexpected surges with regular Chiropractic Care. Chiropractors perform their job like a surge protector - skillfully monitoring your Nerve System for overloads and ADJUSTINGcircuits back to normal when necessary. When it comes to fighting stress and dis-ease, nothing beats keeping your power ON with Chiropractic!
---
PRODUCE MANAGER
A Guide to Storing Vegetables in your Fridge!
Broccoli
Store in an airtight container or a sealed plastic bag for up to 4 days in the crisper. If any buds turn hello, the tops should be discarded, but you can still peel and use the stems!
Carrots
Cut off greens. Store in an airtight container or sealed plastic bag for 2 to 4 weeks in the crisper. Limp, shriveled carrots have lost their vitamins and crunch. Feed them to your garbage disposal.
Celery
Store in an airtight plastic container or sealed plastic bag for up to 1 week in the crisper. If slightly limp, it is still useable. Peel the stalks, which become stringy as they lose moisture.
Cucumbers
Store in an airtight container or sealed plastic bag for up to 5 days in the crisper. Trim away the wrinkly ends and you can eat the rest of the cucumber!
Leafy Greens
Store in an airtight container or a sealed plastic bag for up to 7 to 10 days in the crisper. A wilted head of lettuce often has healthier leaves in the center, peel away the outer leaves to find them!
Mushrooms
Store in their wrapped box or in a paper bag in the crisper for up to 5 days, brush off dirt and use. Mushrooms with open gills should be used right away, discard any theta are slimy or spotted!
From a story in Real Simple magazine
---
Lentil Rice Soup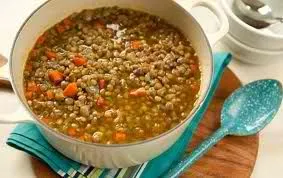 High in fiber, lentils are satisfyingly filling and deliver B vitamins, magnesium, iron and protein without and abundance of calories.
INGREDIENTS:
4 Tablespoons Olive Oil
4 Tablespoons Butter
2 medium Onions, chopped
2 cups Lentils
3 teaspoons Sea Salt
1 cup Brown Rice
12 oz. Tomato Paste
32 oz. Stewed Tomatoes
6 cups Water
2 Bay Leaves
DIRECTIONS:
Saute onions in oil and butter until golden. Add remaining ingredients and simmer until tender, about 1 1/2 hours. Add more water for desired consistency.
---
WINTER GREEN SHAKE
Support your body's detoxification system while getting a healthy dose of carotenoid antioxidants from the kale and avocado in this shake. Give it a try next time you're craving something different yet healthy for breakfast.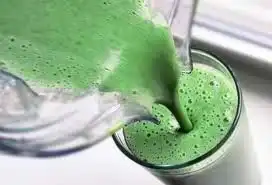 INGREDIENTS:
. 1 cup organic curly green kale, stems removed
. 1/2 avocado, pitted, peeled
. 1/2 banana, frozen
. 1 tablespoon fresh mint leaves
. 1 Tablespoon organic raw honey
. 1 cup water
. 1 cup ice cubes
DIRECTIONS:
Using a high-performance commercial drink blender, blend all the ingredients until are smooth and creamy. Thin with additional water if desired.
Recipe courtesy of Whole Living
---
Chiropractic Truths
1. Chiropractic services are good for much more than just "aches and pains"
2. Chiropractors do not only treat back problems, but can help with allergies, foot and leg pain, headaches, TMJ and much much more.
3. The average cost for medical treatment was 8.5 times MORE expensive than chiropractic treatment for the same injury.
4. Not only are chiropractic costs 25-50% LESS than medical services, but most patients under chiropractic care return to work in half the time!
5. Lack of exercise, or sleep, high intakes of caffeine, a bad mental attitude and of course stress are all immune system suppressors.
6. The effects of poor posture can be far reaching, involving the respiratory, digestive, and circulatory systems.
7. Over $80,000,000,000 (yes, thats BILLION) is spent each year on drugs to relive heartburn, acid reflux, bloating, IBS and other digestive disorders. Most of these issues are due to food allergy, nutritional deficiency, and misalignment.
8. 70% of back surgeries are NOT necessary, in fact back surgery helps only 1 out of every 100 people who have had it.
9. According to the FDA, there are over 300,000 deaths every year due to prescription drugs.
10. Chiropractic adjustments have been shown to be 5 times MORE effective than the drugs Celebrex and Vioxx in the treatment of chronic neck and low back pain.
11. Supplementing with vitamin D3 has the potential to reduce cancer deaths in America by 75%
12. Consuming nonsteroidal anti-inflammatory pain drugs such as Tylenol and Advil can increase your risk of dementia and Alzheimer's by 66%. Consequently, taking 1,000 capsules of Tylenol in a lifetime DOUBLES the risk of end stage renal (kidney) disease
13. 93% of patients with chronic whiplash who have failed medical and physical therapy care improve with chiropractic adjustments. The average time for whiplash recovery? Approximately 7 months.
14. Children that receive chiropractic care are sick less often, chiropractic care can also help with infantile colic (94% of cases improved with adjustments)and childhood asthma.
15. Many conditions exist before you "feel" them. Think of a cavity in your tooth, diabetes, heart disease. The first sign of heart disease in 95% of cases is DEATH! Also, the sensory system (The system that makes us feel things) is only 10% of the nervous system...That means that we don't feel 90% of whats going on in our bodies!!!
16. The average American consumes 52 gallons of soft drinks PER YEAR! Thats 557 cans! Mexico is #2 at 33.3 gallons and Norway is #3 at 32.2 gallons.
17. An average of $6,096 per year is spent PER PERSON in on healthcare in the U.S. Compared with $3,173 in Canada and $1,519 In Brazil.
18. Tips for good sleep:
. Keep the bedroom cool (between 65-68 degrees)
. Turn off all screens (TV, Computer, Video games) 1hr before bedtime
. Sleep on your back or side. Not your stomach.
. Go to bed at the same time every night
. Invest in a good pillow
---
10 SUPERFOODS FOR BETTER HEALTH!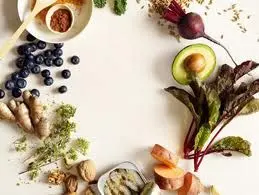 Sweet Potatoes-A nutritional all-star, one of the best vegetables you can eat. They're loaded with carotenoids, vitamin C, potassium, and fiber. Bake them and mix in some unsweetened applesauce or crushed pineapple for some extra moisture and sweetness.
Mangoes- Just one cup of mango supplies 100% of a day's vitamin C, 1/3 of a day's vitamin A, a decent dose of blood-pressure lowering potassium, and 3 grams of fiber. BONUS: mango is one of the fruits least likely to have pesticide residue.
Unsweetened Greek Yogurt- Nonfat, plain Greek yogurt has a pleasant tartness that is a perfect foil for the natural sweetness of berries, bananas, or your favorite breakfast cereal. It is strained, so even the fat-fee versions are thick and creamy. The lost liquid means that the yogurt that's left has twice the protein of ordinary yogurt! About 17 grams in 6oz of plain yogurt.
Broccoli- It has lots of vitamin C, carotenoids, vitamin K and folic acid. Steam it just enough so that it is still firm and add a sprinkle of red pepper flakes and a spritz on lemon juice.
Wild Salmon- The Omega-3 fats in fatty fish like salmon can help reduce the risk of sudden-death heart attacks. Wild-caught salmon has less PCB contaminants than farmed salmon.
Crispbreads- Whole-grain rye crackers, like Wasa, Kavli, and Ryvita-ususally called crispbreads- are loaded with fiber and are often fat-free. Drizzle with a little honey and sprinkle with cinnamon to satisfy your sweet tooth.
Garbanzo Beans- All beans are good beans, they're rich in protein, fiber, iron, magnesium, potassium, and zinc. Garbanzo beans stand out because they're so versatile. Just drain, rinse and toss in a green salad; throw them into soups, stews, curries;mix them with brown rice, hole wheat couscous, bulgur or other whole grains.
Watermelon- Watermelon is a heavyweight in the nutrient department. A standard serving (about 2 cups) has 1/3 of a day's vitamins A and C, a nice sot of potassium and a healthy dose of lycopene for only 80 fat-free, salt-free calories. When they are in season, watermelons are often locally grown which means they may have a smaller carbon footprint than other fruits.
Butternut Squash- Steam a sliced squash or buy peeled, diced butternut squash at the supermarket that is ready to go into the oven, a stir-fry or soup. It is an easy way to get lots of vitamin A, C and fiber.
Leafy Greens- Don't miss out on powerhouse greens like kale, collards, turnip greens, mustard greens, and swiss chard. These stand out leafy greens are jam packed with vitamins A, C and K, folate, potassium, magnesium, calcium, iron, lutein, and fiber. Serve with a splash of lemon juice or red-wine vinegar.

---
Spinach Salad With Pomegranate and Avocado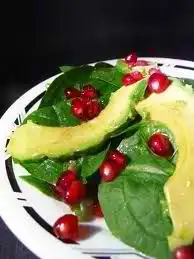 Trim a green salad with brilliantly hued antioxidant rich pomegranate seeds to add color to your holiday table. Toss this salad together to combine all the fiber and flavonoids of spinach with the folate, vitamin E and lutein of avocados.
INGREDIENTS:
. 1 pomegranate
. 1/4 Cup fresh lemon juice
. 2 tablespoons olive oil
. 1 teaspoon Dijon mustard
. Celtic sea salt and ground pepper
. 2 bunches flat-leaf spinach, washed and dried with the stems trimmed
. 2 tablespoons roasted, hulled sunflower seeds
. 1 avocado
DIRECTIONS:
Halve pomegranate length wise and seed. Working in a bowl of cold water, use your hands to seperate seeds from membrane. Membrane will float to the top; discard. Scoop out pomegranate seeds and pat dry.
In a large bowl, whisk together 3 tablespoons lemon juice, mustard, and oil. Season with salt and pepper. Toss spinach, sunflower seeds, and pomegranate seeds with dressing in a bowl. Transfer to a serving platter.
Halve avocado and remove pit. Scoop out flesh and thinly slice lengthwise. Drizzle with remaining lemon juice. Transfer to plate and arrange salad on top. Serve immediately.
---
Dr. Renee Gordon, DC is now a certified Chiropractic Sports Practitioner!
For more information the American Chiropractic Board of Sports Physicians, please click the logo below
---
Dr. Renee Gordon, DC is now certified in the Webster Technique!!
For more information on the Webster Technique, please click the logo below